Looking for an exciting dining experience in Pensacola, FL? Look no further than Eurasian Bistro, a Vietnamese restaurant that promises to take your taste buds on a flavorful journey. Founded by Paul Nguyen, whose personal history adds an extra layer of authenticity to the menu, Eurasian Bistro is a place where Vietnamese cuisine meets French influences. After a successful career in the corporate world, Paul decided to embark on a new adventure and share his love for Vietnamese food with the community. With a friendly ambiance and consistently delicious dishes, Eurasian Bistro is a must-visit for anyone craving a unique dining experience in Pensacola.

About Eurasian Bistro
Eurasian Bistro is a Vietnamese restaurant located in Pensacola, FL. Founded by Paul Nguyen, a Vietnamese immigrant with a passion for sharing his native cuisine, Eurasian Bistro aims to bring awareness of the unique flavors and experiences of Vietnamese food to the masses. With a focus on authenticity while incorporating French influences, Eurasian Bistro offers a menu that celebrates the diversity of Vietnamese cuisine. The restaurant prides itself on providing a friendly atmosphere, excellent service, and a dining experience that leaves customers satisfied.
Location and Contact Information
Eurasian Bistro is conveniently located at 10015 N Davis Hwy, Suite 600, in Pensacola, FL. For those who wish to contact the restaurant, the phone number is (850) 786-3459. Additionally, more information about the restaurant can be found on their website at eurasianbistro.com.
Founder's Background
The founder of Eurasian Bistro, Paul Nguyen, has a compelling background that influenced his journey to opening the restaurant. Born in Saigon, Vietnam, Paul's family escaped the country on a boat in 1977, just two years after the fall of Saigon. After spending time in a refugee camp in Indonesia, the family eventually settled in Houston, Texas.
Paul spent many years working for both Microsoft and NASA before retiring from the corporate world in 2013. In 2015, he moved to Pensacola and decided to take on a new challenge by opening Eurasian Bistro. Paul's goal is to introduce Vietnamese cuisine to a wider audience while providing a friendly and welcoming dining experience.
Mission of Eurasian Bistro
The mission of Eurasian Bistro is to bring awareness of the unique Vietnamese cuisine to customers in the Pensacola area. By offering a menu that combines authenticity and French influences, Eurasian Bistro aims to create a dining experience that delights customers with delicious food and a friendly ambiance. The restaurant strives to consistently provide high-quality meals, exceptional service, and a warm atmosphere where guests can enjoy the flavors of Vietnam.
Menu
At Eurasian Bistro, the menu is carefully crafted to showcase the best of Vietnamese cuisine while also incorporating French-inspired specialties. With a focus on authenticity, the restaurant offers a variety of dishes that cater to different dietary preferences, including vegetarian and vegan options. To accompany the delicious food, Eurasian Bistro also provides a diverse beverage selection, ranging from refreshing non-alcoholic drinks to curated wine choices.
Authentic Vietnamese Dishes
The menu at Eurasian Bistro features a wide range of authentic Vietnamese dishes that will transport you to the bustling streets of Vietnam. From well-known classics to lesser-known gems, the restaurant offers a variety of options to satisfy your cravings. Some popular dishes include traditional favorites such as Pho, a flavorful and aromatic noodle soup, and Banh Mi, a Vietnamese sandwich filled with savory meats and fresh vegetables.
French-Inspired Specialties
Eurasian Bistro takes pride in incorporating French influences into their menu, creating a unique fusion of flavors. The French-inspired specialties add an interesting twist to traditional Vietnamese dishes, resulting in a culinary experience that is both familiar and exciting. These dishes showcase the culinary diversity of Vietnam and highlight the fusion of cultures.
Vegetarian and Vegan Options
Eurasian Bistro is committed to catering to a wide range of dietary preferences and offers several vegetarian and vegan options on their menu. These dishes are carefully crafted to provide the same level of flavor and satisfaction as their meat-based counterparts, ensuring that all guests can enjoy a delicious and fulfilling meal.
Beverage Selection
To complement the flavorful dishes, Eurasian Bistro offers a diverse beverage selection. From traditional Vietnamese drinks like Vietnamese Iced Coffee to a curated selection of wines, guests can enjoy a refreshing beverage that perfectly complements their meal. The restaurant also offers a variety of non-alcoholic options for those who prefer a non-alcoholic drink.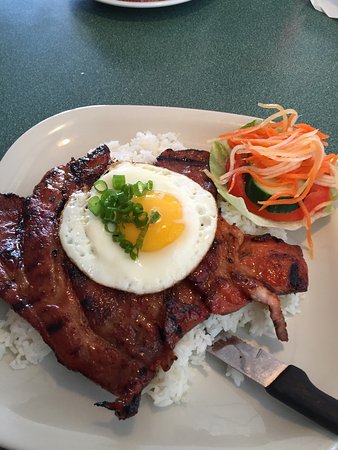 This image is property of media-cdn.tripadvisor.com.

Dining Experience
Eurasian Bistro prides itself on providing a delightful dining experience for all guests. From the moment you walk through the door, you will be met with a welcoming ambiance, friendly service, cozy seating, and a clean and well-maintained environment.
Welcoming Ambiance
Upon entering Eurasian Bistro, you will be greeted by a warm and inviting atmosphere. The restaurant's interior is tastefully decorated, creating a cozy and comfortable space for guests to enjoy their meal. The combination of modern elements and traditional Vietnamese accents adds to the overall ambiance, setting the stage for a memorable dining experience.
Friendly Service
The staff at Eurasian Bistro is dedicated to providing friendly and attentive service to all guests. Whether you have dietary restrictions, need recommendations from the menu, or have any other inquiries, the knowledgeable staff is always ready to assist and ensure that your dining experience is a pleasant one. Their warm and welcoming attitude contributes to the overall friendly atmosphere of the restaurant.
Cozy Seating
Eurasian Bistro offers cozy seating options that make guests feel right at home. Whether you prefer a table for two or a larger party, the restaurant has various seating arrangements to accommodate groups of different sizes. The comfortable seating enhances the overall dining experience, allowing guests to relax and enjoy their meal in a cozy and inviting environment.
Clean and Well-Maintained Environment
Maintaining a clean and well-maintained environment is of utmost importance at Eurasian Bistro. The restaurant takes pride in ensuring that all areas, including the dining area, kitchen, and restroom, are kept clean and tidy. This commitment to cleanliness creates a pleasant and hygienic atmosphere for guests to enjoy their meal.
Signature Dishes
Eurasian Bistro offers a selection of signature dishes that are not to be missed. These dishes highlight the flavors and culinary traditions of Vietnam and showcase the restaurant's commitment to authenticity and quality.
Pho
Pho is a Vietnamese noodle soup that has gained popularity worldwide for its rich flavors and comforting qualities. At Eurasian Bistro, Pho is given the utmost care and attention to ensure that it is packed with flavor. Served piping hot with tender beef or chicken, aromatic herbs, and rice noodles in a flavorful broth, Pho is a must-try dish for any Vietnamese food enthusiast.
Banh Mi
Banh Mi is a beloved Vietnamese sandwich that perfectly balances savory meats, fresh vegetables, and a crusty baguette. Eurasian Bistro's Banh Mi is a delightful fusion of flavors, offering a choice of fillings such as grilled pork, lemongrass chicken, or tofu. Topped with pickled vegetables, cilantro, and a special sauce, each bite of this sandwich is a burst of deliciousness.
Bun Bo Hue
Bun Bo Hue is a spicy beef noodle soup that originates from the city of Hue in Central Vietnam. Known for its robust flavors and vibrant colors, this dish is a delight for those who enjoy a little heat. Eurasian Bistro's Bun Bo Hue is made with a fragrant and spicy broth, tender beef, and thick rice noodles, creating a dish that is as visually appealing as it is flavorful.
Com Tam
Com Tam, also known as broken rice, is a popular dish in Vietnam. This dish consists of grilled meats, typically pork, served over a bed of broken rice and accompanied by various sides and sauces. Eurasian Bistro's Com Tam offers a delicious combination of flavors and textures, with perfectly grilled meats, fragrant rice, and flavorful sides that elevate the dining experience.
Bo Kho
Bo Kho is a traditional Vietnamese beef stew that is slow-cooked to perfection. Eurasian Bistro's Bo Kho is made with tender chunks of beef, aromatic spices, and vegetables, resulting in a dish that is hearty and full of flavor. Served with a side of crusty baguette or rice, this dish offers a comforting and satisfying meal option.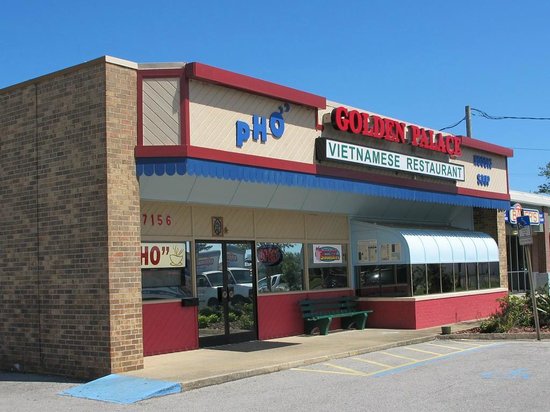 This image is property of media-cdn.tripadvisor.com.
Customer Reviews
Eurasian Bistro has garnered many positive reviews from satisfied customers who have enjoyed the restaurant's delicious food and exceptional service. Here are some of the common themes mentioned in customer reviews:
Positive Feedback
Customers consistently express their positive experiences at Eurasian Bistro. From the moment they enter the restaurant to the final bite of their meal, guests are delighted by the welcoming ambiance, impeccable service, and high-quality food. The overall positive feedback reflects the dedication of Eurasian Bistro in providing an excellent dining experience.
Praise for Authenticity
Many customers appreciate the authenticity of the Vietnamese dishes at Eurasian Bistro. The flavors, textures, and attention to detail in the preparation of each dish transport them back to Vietnam. Whether they are tasting Banh Mi, Pho, or any other specialty, guests praise the restaurant for staying true to the culinary traditions of Vietnam.
Compliments for Flavors
The flavors of the dishes at Eurasian Bistro consistently receive compliments from customers. From the rich and fragrant broths to the perfectly balanced seasonings, each dish is crafted with care to ensure a burst of flavor in every bite. Guests are impressed by the depth and complexity of the flavors, making their dining experience truly memorable.
Appreciation for Presentation
The presentation of the dishes at Eurasian Bistro adds an extra touch of elegance to the overall dining experience. From the garnishes that decorate the Pho to the artful arrangement of ingredients in Banh Mi, customers appreciate the attention to detail in the presentation of each dish. The beautiful and visually appealing plates enhance the enjoyment of the meal.
Rave about Friendly Staff
The friendly and attentive staff at Eurasian Bistro receive rave reviews from customers. Guests describe the staff as welcoming, helpful, and knowledgeable about the menu. Their warmth and genuine care for each customer contribute to the overall positive experience at the restaurant.
Catering Services
Eurasian Bistro offers catering services for events and parties, ensuring that your guests can enjoy the flavors of Vietnam no matter the occasion. Whether you are hosting a small gathering or a larger event, Eurasian Bistro can provide customizable menus and professional service to meet your specific needs.
Events and Parties
From corporate events to family celebrations, Eurasian Bistro can cater to various types of events and parties. The experienced catering team can work closely with you to create a menu that suits your event and accommodates any dietary restrictions or preferences. With Eurasian Bistro's catering services, you can treat your guests to a memorable dining experience.
Customizable Menus
Eurasian Bistro understands that every event is unique, and therefore offers customizable menus to cater to your specific requirements. Whether you prefer a selection of appetizers, a buffet-style meal, or a plated dinner, the catering team can tailor the menu to fit your event and ensure that every guest enjoys a delicious meal.
Professional Service
In addition to providing delicious food, Eurasian Bistro's catering service also includes professional and attentive staff who will ensure that your event runs smoothly. From setup to cleanup, the dedicated team will take care of every detail, allowing you to relax and enjoy the occasion.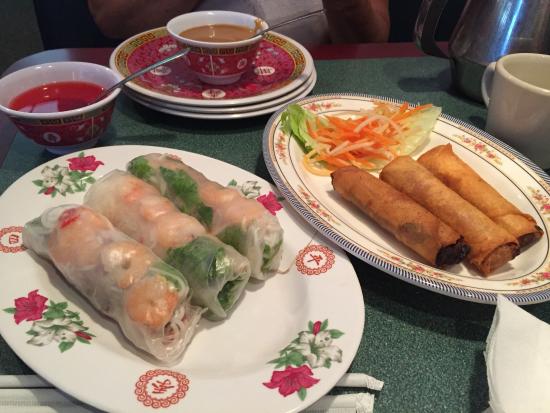 This image is property of media-cdn.tripadvisor.com.
Takeout and Delivery
For those who prefer to enjoy Eurasian Bistro's delicious food in the comfort of their own home, the restaurant offers convenient takeout and delivery options. Whether you want to enjoy a quick meal on the go or have a cozy dinner at home, Eurasian Bistro ensures that your food is prepared with care and packaged well for a seamless experience.
Convenient Ordering
Ordering takeout or delivery from Eurasian Bistro is incredibly convenient. The restaurant offers various ways to place an order, including online ordering through their website or by simply calling their phone number. With just a few clicks or a quick phone call, you can have your favorite Vietnamese dishes on their way to your doorstep.
Punctual Delivery
Eurasian Bistro values customers' time and strives to provide punctual delivery services. The restaurant understands the importance of delivering food promptly, ensuring that it arrives at your doorstep fresh and ready to be enjoyed. By prioritizing timely delivery, Eurasian Bistro aims to make the takeout and delivery experience as seamless and enjoyable as possible.
Well-packaged Food
When ordering takeout or delivery, Eurasian Bistro ensures that the food is well-packaged to maintain its quality and flavors. The restaurant uses suitable containers and packaging materials to ensure that your food arrives in excellent condition. Whether you are dining at the restaurant or enjoying your meal at home, you can expect the same level of care and attention to detail in the presentation of your food.
Special Offers and Promotions
Eurasian Bistro offers various special offers and promotions to make dining at the restaurant even more enticing. From lunch specials to happy hour deals, the restaurant provides opportunities for customers to enjoy their favorite Vietnamese dishes at a discounted price. Additionally, Eurasian Bistro rewards its loyal customers with a rewards program that offers exclusive benefits and discounts.
Lunch Specials
Eurasian Bistro offers lunch specials that are perfect for those looking for a quick and delicious meal. These specials typically include a selection of popular dishes at a discounted price, allowing customers to enjoy a satisfying lunch without breaking the bank. The lunch specials are available during specific hours and vary from day to day, ensuring there is always something new to try.
Happy Hour Deals
To add an extra element of enjoyment to the dining experience, Eurasian Bistro offers happy hour deals on select beverages. Whether you prefer a refreshing cocktail or a glass of wine, happy hour is the perfect time to sit back, relax, and take advantage of the discounted prices. The happy hour deals complement the flavors of the food and provide an opportunity to unwind after a busy day.
Discounts for Students and Military
Eurasian Bistro offers discounts for students and military personnel, recognizing their contribution and dedication. By providing these discounts, the restaurant aims to make Vietnamese cuisine more accessible to these groups, allowing them to enjoy a delicious meal at a discounted price. It's a gesture of gratitude and appreciation for their service and commitment.
Rewards Program
Eurasian Bistro's rewards program allows customers to earn points for every purchase, which can then be redeemed for various rewards, such as discounts, free items, or special promotions. The rewards program is designed to show appreciation to loyal customers and provide them with exclusive benefits. By joining the rewards program, customers can enjoy additional perks and make the most out of their dining experiences at Eurasian Bistro.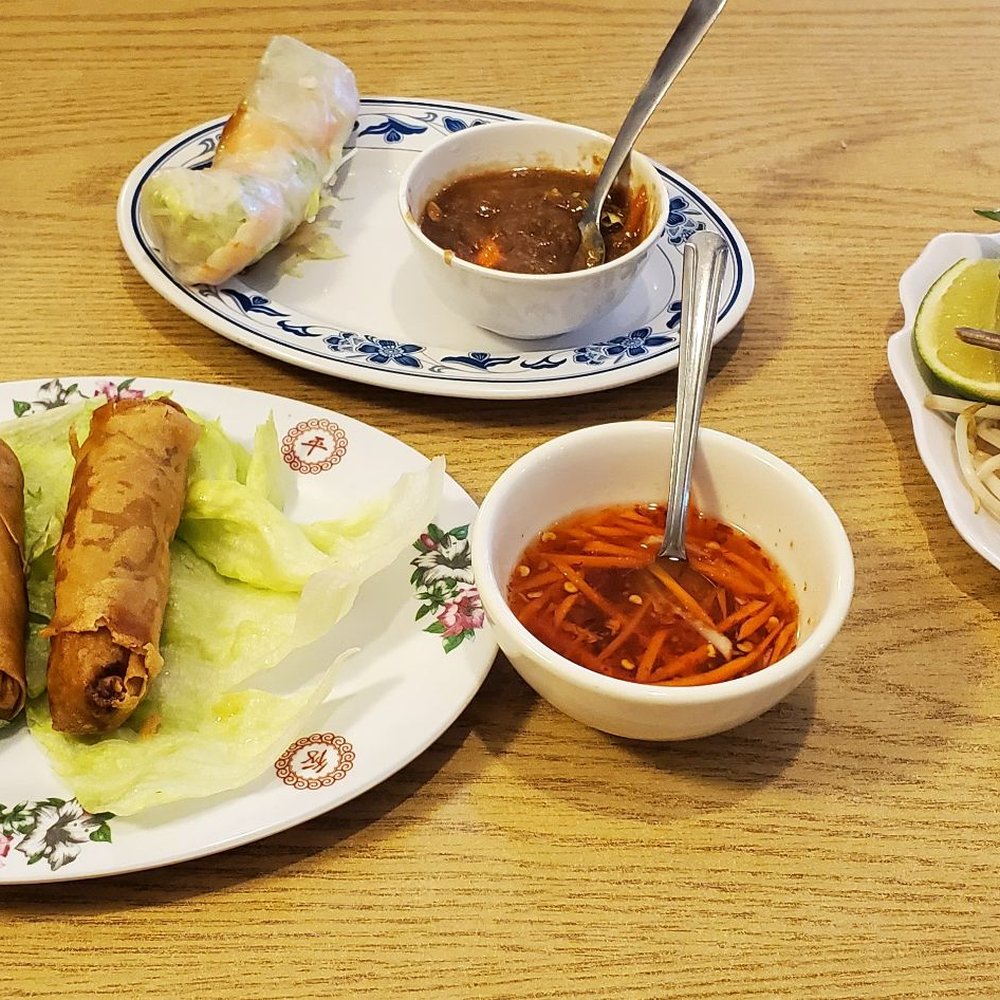 This image is property of s3-media0.fl.yelpcdn.com.
Community Involvement
Eurasian Bistro is dedicated to being an active member of the community and supporting local causes. Through involvement in charities, sponsoring events, participating in food drives, and promoting cultural exchange, the restaurant aims to make a positive impact and give back to the community it serves.
Supporting Local Charities
Eurasian Bistro understands the importance of supporting local charities and organizations that make a difference in the community. The restaurant actively seeks opportunities to contribute and make donations to causes that align with their values. By supporting local charities, Eurasian Bistro aims to have a positive and lasting impact on the community.
Sponsoring Events
Eurasian Bistro proudly sponsors events that promote cultural diversity and bring the community together. By sponsoring these events, the restaurant helps create opportunities for people to celebrate and learn about different cultures, fostering a sense of unity and appreciation for diversity. Eurasian Bistro's commitment to sponsoring events reflects their belief in the importance of cultural exchange and fostering a vibrant community.
Participating in Food Drives
Eurasian Bistro actively participates in food drives to support those in need within the local community. The restaurant understands the importance of access to food and the impact it can have on individuals and families. By participating in food drives, Eurasian Bistro aims to contribute to alleviating hunger and ensuring that everyone has access to nutritious meals.
Promoting Cultural Exchange
Eurasian Bistro believes in promoting cultural exchange and celebrating the diversity of cultures within the community. Through the flavors, traditions, and stories shared through Vietnamese cuisine, the restaurant aims to foster understanding and appreciation for different cultures. Eurasian Bistro's commitment to promoting cultural exchange is rooted in the belief that embracing diversity enhances the fabric of the community.
Plan Your Visit
To experience the delights of Eurasian Bistro, it's essential to plan your visit accordingly. Here are some details to keep in mind when planning your dining experience:
Opening Hours
Eurasian Bistro operates during specific hours, and it's important to be aware of their opening hours to ensure that you can enjoy your meal at the desired time. The restaurant's opening hours may vary based on the day of the week, so consulting their website or calling ahead is recommended to avoid disappointment.
Directions and Parking
Eurasian Bistro is conveniently located at 10015 N Davis Hwy, Suite 600, in Pensacola, FL. When planning your visit, consider the best route to reach the restaurant and any potential traffic conditions. Additionally, it's important to be aware of parking options near the restaurant to ensure a smooth arrival and departure. Eurasian Bistro strives to provide a hassle-free dining experience from start to finish, and being prepared with directions and parking information can contribute to that seamless experience.
In conclusion, Eurasian Bistro in Pensacola, FL, offers an authentic Vietnamese dining experience with French-inspired specialties. Founded by Paul Nguyen, the restaurant aims to bring awareness of Vietnamese cuisine to the masses while providing a friendly and welcoming atmosphere. From the welcoming ambiance to the friendly service and delectable dishes, Eurasian Bistro offers a delightful dining experience that will leave guests satisfied. Whether you choose to dine in, takeout, or have your meal delivered, Eurasian Bistro ensures convenience and a pleasant experience. With catering services, special offers, and community involvement, Eurasian Bistro goes beyond providing delicious food and seeks to make a positive impact in the community. Plan your visit to Eurasian Bistro today and indulge in the flavors of Vietnam while enjoying a memorable dining experience.