Looking for some delicious Vietnamese cuisine near Pensacola, FL? Look no further than Eurasian Bistro, a hidden gem founded by Paul Nguyen. Born in Saigon, Vietnam, Paul's family escaped on a boat two years after the fall of Saigon. After spending time in a refugee camp, they settled in Houston, Texas. With a background in working for Microsoft and NASA, Paul retired in 2013 and later decided to take on a new challenge with Eurasian Bistro. His mission is to introduce the unique flavors of Vietnamese cuisine to the masses, offering a friendly ambiance and consistently delicious food that combines authentic Vietnamese dishes with French influences. This is the perfect spot to satisfy your cravings for Vietnamese food in the Pensacola area.

Vietnamese Cuisine at Eurasian Bistro
Introduction to Eurasian Bistro
Welcome to Eurasian Bistro, a Vietnamese restaurant located in Pensacola, FL. If you're craving authentic Vietnamese cuisine with a touch of French influence, this is the place for you. Eurasian Bistro takes pride in serving delicious and unique Vietnamese dishes, created with love and passion by its founder, Paul Nguyen. Whether you're a local or just visiting the area, Eurasian Bistro is a must-visit destination to satisfy your cravings for Vietnamese delights.
The Background of Paul Nguyen
The story behind Eurasian Bistro begins with its founder, Paul Nguyen, who was born in Saigon, Vietnam. Paul's journey to creating Eurasian Bistro is one of resilience and determination. In 1977, two years after the fall of Saigon, Paul's family escaped Vietnam on a boat. They spent nearly a year in a refugee camp in Indonesia before finally arriving in the United States and settling in Houston, Texas.
Paul spent many years working for both Microsoft and NASA, but in 2013, he decided to retire and pursue a new challenge. In 2015, he moved to Pensacola and embraced his passion for Vietnamese cuisine by opening Eurasian Bistro. Paul's mission for Eurasian Bistro is to introduce the unique flavors of Vietnamese food to a wider audience. His vision includes creating a dining experience that not only showcases authentic Vietnamese dishes but also incorporates delightful French influences.
Location and Contact Information
Address
Eurasian Bistro is conveniently located at 10015 N Davis Hwy, Suite 600, Pensacola, FL 32514. Whether you're a local resident or visiting the area, Eurasian Bistro is easily accessible.
Phone Number
If you have any questions or want to make a reservation, you can reach Eurasian Bistro at (850) 786-3459. The friendly staff will be more than happy to assist you.
Website
For more information about Eurasian Bistro and to view their complete menu, visit their website at eurasianbistro.com.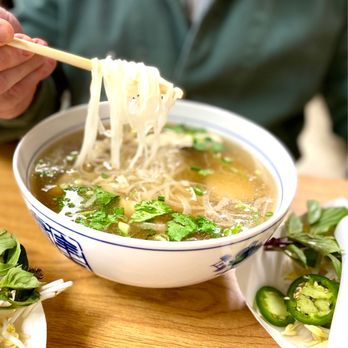 This image is property of s3-media0.fl.yelpcdn.com.

History of Eurasian Bistro
The Founder's Journey
Paul Nguyen's journey from Vietnam to opening Eurasian Bistro is a testament to his determination and love for Vietnamese cuisine. His experiences as a refugee and his background in technology eventually led him to pursue his passion for food.
Escape from Vietnam
After the fall of Saigon, Paul's family bravely escaped Vietnam on a boat in 1977. They faced numerous challenges and spent almost a year in a refugee camp in Indonesia before finally finding a new home in the United States. The struggles they endured during their journey fueled Paul's desire to share the flavors of his homeland with others.
Settling in the United States
Once in the United States, Paul's family settled in Houston, Texas. Paul pursued a successful career in the technology industry, working for prominent companies such as Microsoft and NASA. However, his passion for cooking and his deep-rooted connection to Vietnamese cuisine never wavered.
In 2013, Paul made the bold decision to retire from the corporate world. He moved to Pensacola in 2015, ready to embark on a new chapter of his life centered around his love of cooking. Eurasian Bistro was born out of Paul's desire to introduce Vietnamese cuisine to a wider audience, combining authenticity with French influences.
Eurasian Bistro's Mission
Introducing Vietnamese Cuisine
At Eurasian Bistro, their mission is to bring awareness of the unique Vietnamese cuisine to the masses. The restaurant serves as a gateway for both locals and visitors to experience the vibrant flavors, fragrant spices, and diverse textures that Vietnamese food has to offer. Whether you're a seasoned fan of Vietnamese cuisine or new to its delights, Eurasian Bistro offers an authentic and memorable dining experience.
Incorporating French Influences
One of the unique aspects of Eurasian Bistro is its incorporation of French influences into its Vietnamese dishes. The fusion of these two culinary traditions creates a harmonious balance of flavors that is both comforting and exciting. From traditional Vietnamese staples to innovative creations, Eurasian Bistro showcases the best of both worlds, allowing diners to explore a unique blend of flavors during their dining experience.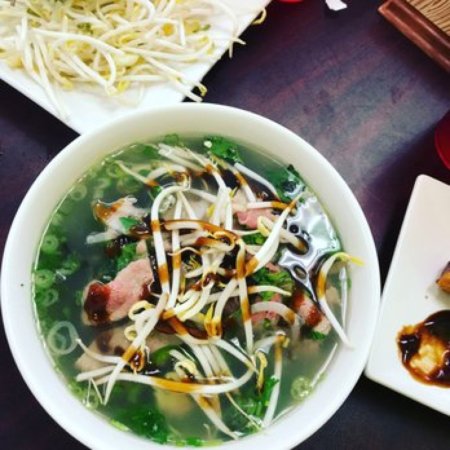 This image is property of media-cdn.tripadvisor.com.
Authentic Vietnamese Food
Traditional Vietnamese Dishes
Eurasian Bistro takes great pride in offering an extensive menu of traditional Vietnamese dishes. From beloved classics like phở and bánh mì to lesser-known delicacies, you'll find a wide range of options that showcase the diverse flavors of Vietnam. Each dish is carefully crafted using fresh ingredients and traditional cooking techniques to ensure an authentic and unforgettable dining experience.
Signature Dishes
In addition to the traditional Vietnamese dishes, Eurasian Bistro also offers a selection of signature dishes that highlight their unique fusion concept. These dishes showcase the blending of Vietnamese and French flavors, resulting in delightful creations that tantalize the taste buds. From their famous Vietnamese crepes to their mouthwatering lemongrass chicken, each signature dish tells a story and brings a new dimension to Vietnamese cuisine.
Menu and Specialties
Varied Selections
Eurasian Bistro's menu boasts a wide variety of options to cater to every taste. From hearty soups and noodles to light and refreshing salads, there's something for everyone. Whether you're craving a comforting bowl of phở, a flavorful rice dish, or a tantalizing stir-fry, Eurasian Bistro has you covered. Their menu is thoughtfully curated to include a balance of meat, seafood, and vegetarian options.
Vegan and Vegetarian Options
For those with dietary restrictions or a preference for plant-based meals, Eurasian Bistro offers a range of vegan and vegetarian options. These dishes are carefully crafted to provide the same level of flavor and satisfaction as their meat counterparts. From tofu stir-fries to vegetable spring rolls, you'll find an array of choices that cater to your specific needs.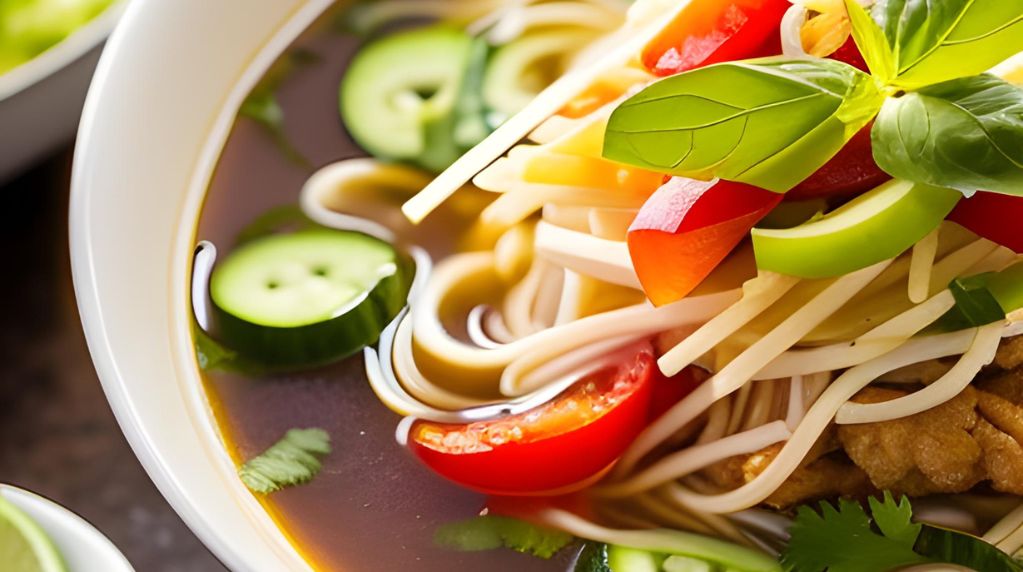 This image is property of eurasianbistro.com.
Dining Experience at Eurasian Bistro
Ambiance and Atmosphere
When you step into Eurasian Bistro, you'll be greeted by a warm and inviting ambiance. The restaurant's interior is tastefully designed, striking a balance between modern elegance and Vietnamese charm. Soft lighting, comfortable seating, and stylish decor create a welcoming environment that is perfect for a casual meal or a special occasion.
Friendly Service
The staff at Eurasian Bistro is known for their friendliness and attentive service. From the moment you walk through the door, you'll be treated like family. The knowledgeable servers are happy to assist with any questions you may have, whether it's recommending dishes or explaining the flavors and ingredients. The team's genuine care for their customers ensures a dining experience that is not only delicious but also memorable.
Customer Reviews
Eurasian Bistro has received rave reviews from satisfied customers who have had the pleasure of dining there. From the food to the service, the overall experience consistently exceeds expectations. Guests often praise the restaurant's commitment to authentic flavors, the creativity of their dishes, and the warm and welcoming atmosphere. These positive reviews are a testament to the exceptional quality of the dining experience at Eurasian Bistro.
Ordering and Delivery Options
In-Person Dining
Eurasian Bistro welcomes guests to dine-in and enjoy their culinary creations in-person. Whether you're looking for a quick lunch or a relaxed dinner with friends, the restaurant offers a comfortable and enjoyable setting to savor your meal. The attentive staff will ensure that your dining experience is nothing short of exceptional.
Takeout and Delivery
If you prefer to enjoy Eurasian Bistro's delicious cuisine from the comfort of your own home, they also offer takeout and delivery services. Simply give them a call to place your order, and their efficient staff will have your food prepared and ready for pickup or delivery. The convenience of taking Eurasian Bistro's delectable dishes home allows you to experience the flavors of Vietnam at your own leisure.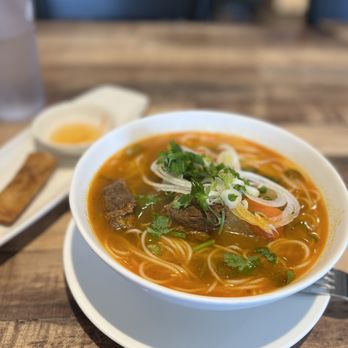 This image is property of s3-media0.fl.yelpcdn.com.
Catering Services
Event Catering
Eurasian Bistro offers catering services for events and special occasions. Whether you're planning a corporate gathering, a wedding, or a private party, their team can create a memorable dining experience for you and your guests. Their extensive menu and expertise in Vietnamese cuisine ensure that your event will be a culinary success.
Private Parties
If you're looking to host a private party or celebration, Eurasian Bistro provides a delightful venue for your special occasion. Their spacious dining area can be reserved for intimate gatherings or larger groups, offering a personalized experience tailored to your needs. The combination of delicious food, friendly service, and inviting atmosphere makes Eurasian Bistro the perfect choice for your next private event.
Plan Your Visit to Eurasian Bistro
Opening Hours
Eurasian Bistro is open for lunch and dinner, seven days a week. The restaurant's opening hours are as follows:
Monday to Thursday: 11:00 AM to 9:00 PM
Friday and Saturday: 11:00 AM to 10:00 PM
Sunday: 12:00 PM to 9:00 PM
Making Reservations
To ensure a seamless dining experience, it is recommended to make a reservation before visiting Eurasian Bistro. You can easily make a reservation by calling (850) 786-3459. The friendly staff will be happy to assist you and ensure that your table is ready upon your arrival.
Come and discover the delights of Vietnamese cuisine with a French twist at Eurasian Bistro. Let the flavors transport you to the vibrant streets of Vietnam as you enjoy a dining experience that is both authentic and innovative. Whether you're a food enthusiast or simply looking for a delicious meal, Eurasian Bistro is the perfect destination for a truly memorable culinary adventure.