If you're in West Pensacola, Florida and looking to explore a new culinary experience, look no further than Eurasian Bistro. Founded by Paul Nguyen, this Vietnamese restaurant is a hidden gem that brings the flavors of Vietnam to the masses. With a fascinating background that includes his family's escape from Vietnam and a successful career at Microsoft and NASA, Paul has now dedicated himself to sharing the wonders of Vietnamese cuisine. At Eurasian Bistro, you can expect an authentic and delightful dining experience that combines traditional Vietnamese dishes with French influences. So, come and indulge your taste buds in a friendly ambiance that guarantees consistently good food at Eurasian Bistro.

About Eurasian Bistro
Eurasian Bistro is a Vietnamese restaurant located in West Pensacola, FL. It was founded by Paul Nguyen, a Vietnamese immigrant with a passion for bringing the unique flavors of Vietnamese cuisine to the masses. The restaurant is dedicated to providing a delightful dining experience for its customers, offering a menu that showcases traditional Vietnamese dishes as well as French-inspired creations. With its friendly ambiance, excellent customer service, and cozy interior design, Eurasian Bistro is the perfect place to enjoy a delicious meal while savoring the fusion of Vietnamese and French flavors.
Location
Eurasian Bistro is conveniently located at 10015 N Davis Hwy, Suite 600, in Pensacola, FL. Situated in West Pensacola, the restaurant is easily accessible to both locals and visitors alike. Whether you're craving authentic Vietnamese cuisine or looking to explore new flavors, Eurasian Bistro is the place to be.
Contact Information
If you have any questions or want to make a reservation, you can contact Eurasian Bistro at (850) 786-3459. The friendly staff is always ready to assist you and ensure your dining experience is nothing short of exceptional. So don't hesitate to reach out and make your next reservation at Eurasian Bistro.
Founder
Eurasian Bistro was founded by Paul Nguyen, who has an inspiring background that shaped his culinary journey. Born in Saigon, Vietnam, Paul and his family escaped the country on a boat in 1977, just two years after the fall of Saigon. After spending time in a refugee camp in Indonesia, the Nguyen family eventually settled in Houston, Texas.
Paul's career background includes working for both Microsoft and NASA. However, after retiring from the corporate world in 2013 and moving to Pensacola in 2015, he decided to embark on a new challenge and follow his passion for Vietnamese cuisine. With the founding of Eurasian Bistro, Paul's mission is to introduce Vietnamese flavors to a wider audience and create a dining experience that consistently delights customers.
Mission and Vision
Introducing Vietnamese Cuisine
At Eurasian Bistro, the mission is simple: to bring awareness of the unique Vietnamese cuisine to the masses. From aromatic herbs to bold spices, Vietnamese cuisine is known for its vibrant and fresh flavors. Eurasian Bistro aims to showcase the diverse range of dishes that Vietnam has to offer and provide an opportunity for customers to explore the rich culinary heritage of the country.
Delighting Customers
Customer satisfaction is at the heart of Eurasian Bistro's vision. The restaurant strives to create an experience that consistently delights its customers. From the moment you step through the door, you can expect to be greeted with warm hospitality and friendly smiles. The staff is dedicated to providing exceptional service, ensuring that every visit to Eurasian Bistro is a memorable one.
French Influences
Vietnamese cuisine has been greatly influenced by French culinary traditions, and Eurasian Bistro celebrates this fusion of flavors. The menu features French-inspired creations that add a unique twist to traditional Vietnamese dishes. By combining elements from both cuisines, the restaurant creates a dining experience that is both familiar and exciting, providing customers with a unique culinary journey.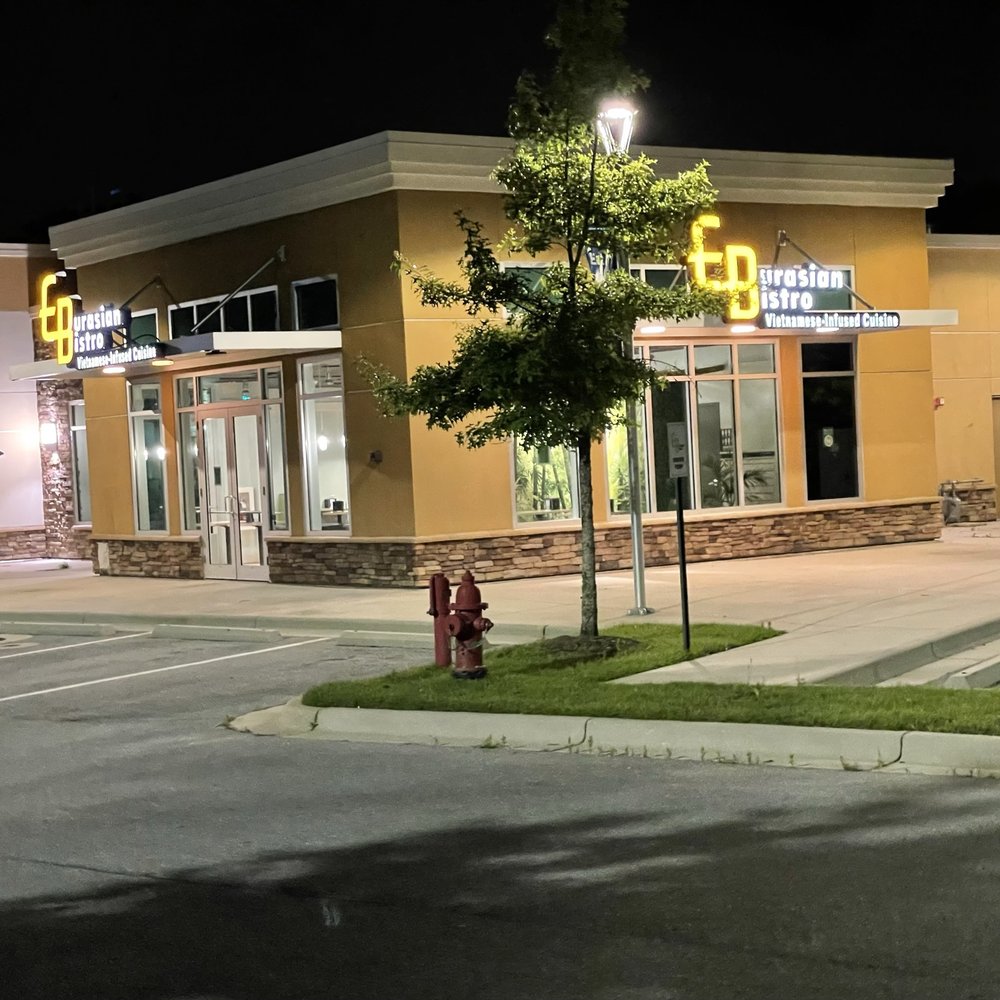 This image is property of s3-media0.fl.yelpcdn.com.

Menu
Traditional Vietnamese Dishes
Eurasian Bistro offers a wide range of traditional Vietnamese dishes that will transport you to the bustling streets of Vietnam. From the aromatic flavors of Pho noodle soup to the savory goodness of Banh Mi sandwiches, the menu is a celebration of Vietnamese culinary traditions. Each dish is prepared with care, using authentic ingredients and techniques to ensure an authentic and unforgettable dining experience.
French-Inspired Creations
In addition to traditional Vietnamese dishes, Eurasian Bistro also offers a selection of French-inspired creations. These dishes combine the best of Vietnamese and French flavors, resulting in a harmonious fusion of tastes. From Coq Au Vin served with fragrant rice to Beef Bourguignon with a Vietnamese twist, these dishes are a testament to the chef's creativity and culinary expertise.
Vegetarian and Vegan Options
Eurasian Bistro caters to a diverse range of dietary preferences and offers a variety of vegetarian and vegan options. From crispy tofu stir-fry to aromatic vegetable curry, these dishes showcase the same bold flavors and fresh ingredients found in traditional Vietnamese cuisine. Whether you follow a plant-based diet or simply enjoy vegetarian and vegan dishes, Eurasian Bistro has something to satisfy your cravings.
Beverage Selection
To complement your meal, Eurasian Bistro offers a carefully curated selection of beverages. From refreshing Vietnamese iced coffee to traditional herbal tea, these drinks are the perfect accompaniment to your dining experience. The restaurant also offers a selection of wines and beers, allowing you to find the perfect pairing for your meal.
Dining Experience
Friendly Ambiance
As soon as you step into Eurasian Bistro, you'll be greeted by a warm and friendly ambiance. The restaurant's welcoming atmosphere is perfect for a casual lunch or an intimate dinner. Whether you're dining alone or with a group of friends, you'll feel at home in the cozy and inviting space.
Excellent Customer Service
At Eurasian Bistro, exceptional customer service is a top priority. The staff is attentive, knowledgeable, and always ready to assist you with any questions or recommendations. From guiding you through the menu to ensuring your dining experience is nothing short of exceptional, the team at Eurasian Bistro goes above and beyond to make you feel valued and taken care of.
Cozy Interior Design
The interior design of Eurasian Bistro is a perfect blend of modern elegance and rustic charm. The cozy seating arrangements, warm lighting, and tasteful decor create a welcoming and intimate atmosphere. Whether you're dining with a loved one or celebrating a special occasion, the restaurant's cozy interior design adds an extra touch of elegance to your dining experience.
Outdoor Seating
For those who prefer dining al fresco, Eurasian Bistro offers outdoor seating. Situated in a beautiful location, the outdoor seating area provides a relaxed and charming ambiance. Whether you're enjoying a meal with friends or sipping on a refreshing beverage, the outdoor seating option allows you to soak in the pleasant weather while indulging in delicious Vietnamese cuisine.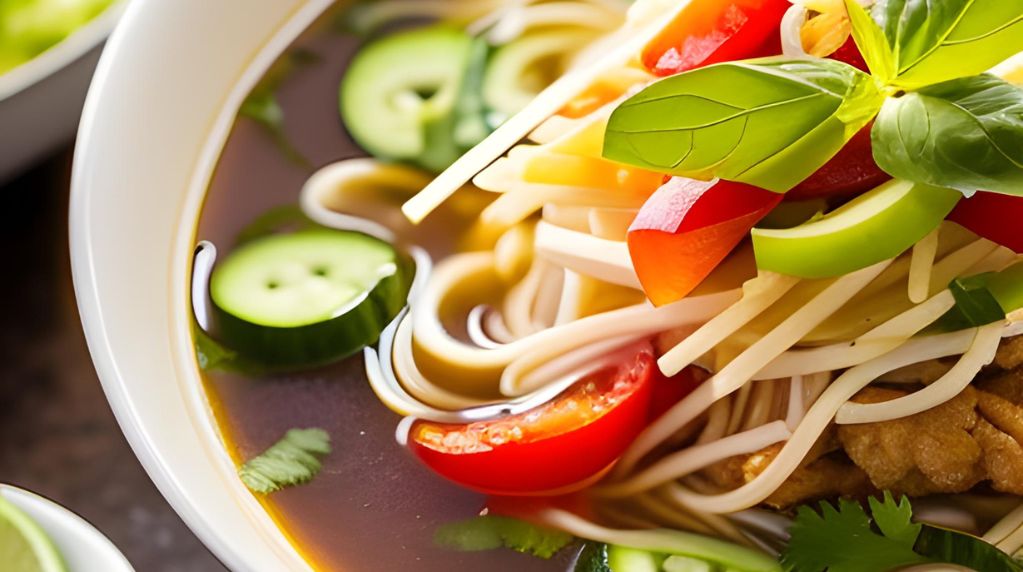 This image is property of eurasianbistro.com.
Special Events
Live Music Nights
Eurasian Bistro hosts regular live music nights, adding an extra element of entertainment to your dining experience. Sit back, relax, and enjoy the soulful melodies as local musicians showcase their talent. Whether you're a music enthusiast or simply looking to unwind, the live music nights at Eurasian Bistro are not to be missed.
Vietnamese Cultural Celebrations
To celebrate the vibrant culture of Vietnam, Eurasian Bistro hosts Vietnamese cultural celebrations throughout the year. These events feature traditional music, dance performances, and special menus that highlight iconic Vietnamese dishes. Immerse yourself in the rich heritage of Vietnam as you indulge in flavors that have been passed down through generations.
Cooking Classes
For those who are interested in learning the art of Vietnamese cooking, Eurasian Bistro offers cooking classes. Led by experienced chefs, these classes provide a hands-on experience where participants can learn to prepare authentic Vietnamese dishes. Whether you're a seasoned cook or a beginner, these classes offer an opportunity to expand your culinary skills and immerse yourself in Vietnamese cuisine.
Catering Services
Events and Parties
Eurasian Bistro offers catering services for a variety of events and parties. Whether you're hosting a corporate event, a wedding reception, or a birthday party, the restaurant can create a customized menu to suit your specific needs and preferences. From traditional Vietnamese dishes to French-inspired delicacies, Eurasian Bistro's catering services will impress your guests and leave a lasting impression.
Customization Options
When it comes to catering, Eurasian Bistro understands that every event is unique. That's why they offer customization options to ensure that the menu perfectly matches your vision. Whether you have dietary restrictions or specific flavor preferences, the team at Eurasian Bistro will work closely with you to create a menu that exceeds your expectations.
Professional Staff
With Eurasian Bistro's catering services, you can expect nothing but the best. The restaurant's professional staff is dedicated to delivering a seamless and memorable catering experience. From the planning stages to the execution of the event, the team will handle every detail with precision and professionalism, allowing you to relax and enjoy the festivities.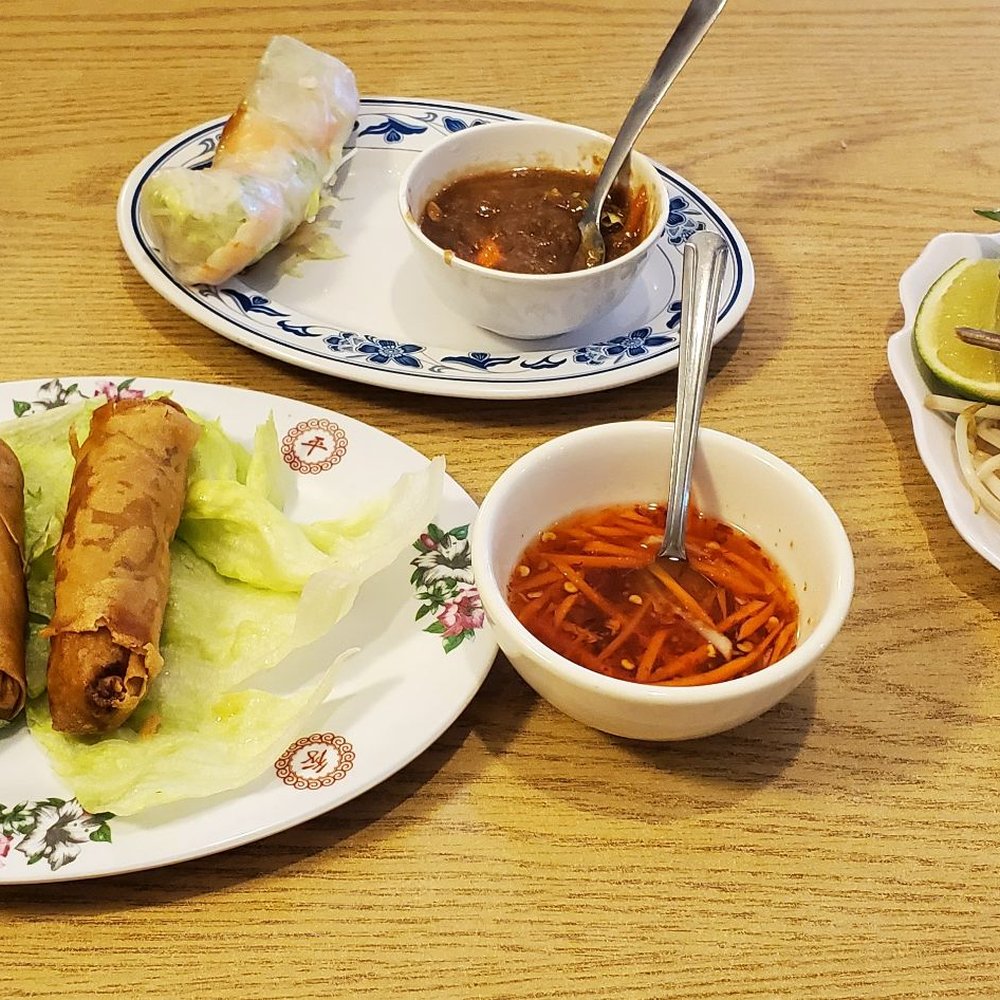 This image is property of s3-media0.fl.yelpcdn.com.
Online Ordering
Convenient Ordering Process
Eurasian Bistro offers an easy and convenient online ordering process. Whether you're limited on time or prefer to dine in the comfort of your own home, you can place your order online and have it ready for pickup or delivery. Simply browse the menu, select your desired dishes, and complete the checkout process. It's that simple!
Delivery Services
For those who prefer to have their meal delivered, Eurasian Bistro provides delivery services. Enjoy the flavors of Vietnamese cuisine without leaving the comfort of your home or office. The restaurant's efficient delivery service ensures that your food arrives fresh and piping hot, allowing you to savor every bite without any hassle.
Takeout Options
If you're on the go or simply prefer to enjoy your meal elsewhere, Eurasian Bistro offers convenient takeout options. Place your order online or call ahead, and your meal will be prepared and ready for pickup at your convenience. Whether you're heading to the beach or enjoying a picnic in the park, Eurasian Bistro's takeout options allow you to enjoy their delicious Vietnamese cuisine wherever you please.
Online Menu
Eurasian Bistro's online menu provides a comprehensive overview of the restaurant's offerings. From traditional Vietnamese dishes to French-inspired creations, you can explore the menu at your own pace and discover new flavors to indulge in. Each dish is accompanied by a detailed description, allowing you to make an informed decision and find the perfect meal to satisfy your cravings.
Customer Reviews
Positive Feedback
Eurasian Bistro has received rave reviews from satisfied customers. From the flavorful dishes to the friendly staff, customers have praised every aspect of their dining experience. Many have expressed their appreciation for the restaurant's commitment to quality and authenticity, while others have commended the exceptional customer service. With overwhelmingly positive feedback, Eurasian Bistro is a dining destination that truly lives up to its reputation.
Excellent Ratings
The restaurant's dedication to excellence is reflected in its exceptional ratings. Customers have consistently given Eurasian Bistro top marks for its flavorsome cuisine, welcoming atmosphere, and impeccable service. Whether you're a seasoned foodie or someone new to Vietnamese cuisine, you can trust that your visit to Eurasian Bistro will be met with excellence from start to finish.
Testimonials
Here are a few testimonials from satisfied customers:
"I've been searching for an authentic Vietnamese restaurant and Eurasian Bistro exceeded my expectations. The flavors are spot-on, and the staff went above and beyond to ensure a memorable dining experience. I'll definitely be back!" – Sarah D.

"Eurasian Bistro is a hidden gem in Pensacola. The combination of Vietnamese and French flavors is a culinary delight. The cozy atmosphere and attentive staff make it the perfect place for a special occasion or a casual dinner with friends." – John H.

"I attended one of Eurasian Bistro's cooking classes and had a fantastic time. The chef was knowledgeable and passionate, and I learned some valuable techniques that I can use in my own kitchen. I highly recommend it to anyone looking to expand their culinary skills." – Amanda T.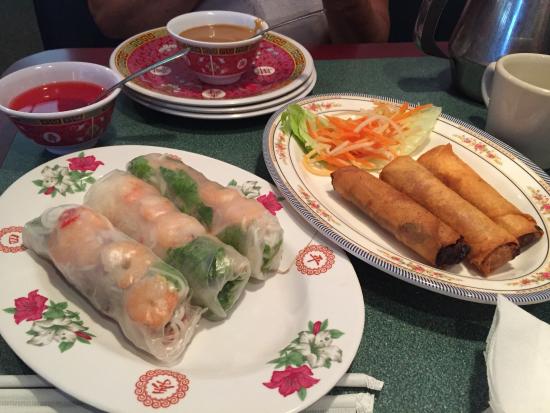 This image is property of media-cdn.tripadvisor.com.
Visit Eurasian Bistro Today!
Experience Vietnamese Cuisine
If you're looking to embark on a culinary journey filled with vibrant flavors and bold spices, Eurasian Bistro is the place to be. From traditional Vietnamese dishes to French-inspired creations, the menu offers a diverse selection that will tantalize your taste buds and leave you craving for more. Experience the authentic tastes of Vietnam at Eurasian Bistro and discover a world of culinary delights.
Support a Local Business
By dining at Eurasian Bistro, you are not only treating yourself to a memorable dining experience, but you are also supporting a local business. Paul Nguyen's vision for Eurasian Bistro is to bring awareness of Vietnamese cuisine to the masses, and your patronage helps make that vision a reality. So, come show your support for this local gem and be a part of the thriving culinary scene in Pensacola.
Try the Chef's Specialties
When visiting Eurasian Bistro, be sure to try the chef's specialties. These dishes are carefully crafted by the talented chefs, showcasing their culinary creativity and expertise. From the Chef's Special Pho to the Chef's Signature Banh Mi, each dish is a masterpiece that represents the best of Vietnamese and French flavors. Trust the chef's recommendations and prepare to be delighted.
In conclusion, Eurasian Bistro is more than just a Vietnamese restaurant in West Pensacola, FL – it's a culinary experience that celebrates the vibrant flavors of Vietnam while incorporating French influences. With its dedication to customer satisfaction, warm ambiance, and delicious menu, Eurasian Bistro is a must-visit destination for food lovers and admirers of Vietnamese cuisine. So, head over to Eurasian Bistro today and embark on a culinary adventure that will leave you wanting more.