Looking for a delicious and unique dining experience in Pensacola, Florida? Look no further than Eurasian Bistro, a Vietnamese restaurant located on N Davis Hwy. Founded by Paul Nguyen, a Vietnamese immigrant with a passion for sharing his culture's cuisine, Eurasian Bistro offers flavorful dishes that incorporate both traditional Vietnamese flavors and French influences. After a successful career in the corporate world, Paul decided to take on the challenge of opening his own restaurant, with the mission of introducing the masses to the wonders of Vietnamese food. With a friendly ambiance and consistently good food, Eurasian Bistro is a must-visit for anyone looking for an authentic and delightful dining experience.
Eurasian Bistro
Welcome to Eurasian Bistro, a Vietnamese restaurant located in Pensacola, FL. If you're in the mood for delightful Vietnamese cuisine served in a warm and friendly ambiance, then this is the place for you. With authentic flavors and a variety of traditional Vietnamese dishes, Eurasian Bistro aims to provide a memorable dining experience for all its customers. So come on over, and let us take you on a culinary journey through Vietnam.

Location
Conveniently situated in Pensacola, FL, Eurasian Bistro is easily accessible for both locals and tourists. The restaurant's address is 10015 N Davis Hwy, Suite 600, Pensacola, FL 32514. Whether you're in town exploring the city or just passing through, make sure to make a stop here to satisfy your cravings for Vietnamese cuisine.
Contact Information
To make a reservation or inquire about our menu, feel free to contact Eurasian Bistro at (850) 786-3459. You can also visit our website at eurasianbistro.com for more information about our offerings and to see our latest promotions.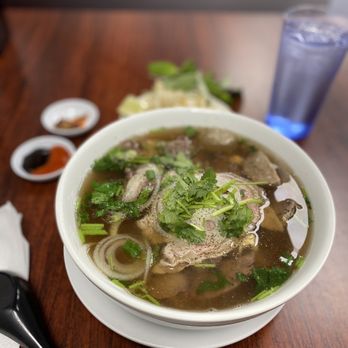 This image is property of s3-media0.fl.yelpcdn.com.

Founder's Background
Eurasian Bistro was founded by Paul Nguyen, a man with an incredible journey from Saigon, Vietnam, to the United States. Born and raised in Saigon, Paul's family made the difficult decision to escape from the country on a boat in 1977, just two years after the fall of Saigon. After spending some time in a refugee camp in Indonesia, Paul and his family finally arrived in the United States and eventually settled in Houston, Texas.
Paul's professional career took him to some renowned organizations, such as Microsoft and NASA. However, after retiring from the corporate world in 2013, he decided to embark on a new venture and pursue his passion for Vietnamese cuisine. In 2015, Paul moved to Pensacola and opened Eurasian Bistro, where he could share his love for Vietnamese food and promote its unique flavors to the masses.
Mission of Eurasian Bistro
At Eurasian Bistro, our mission is to introduce and promote the unique flavors of Vietnamese cuisine. We strive to provide a dining experience that delights our customers with consistently good food and a friendly ambiance. Our menu features authentic Vietnamese dishes that showcase the diverse culinary traditions of Vietnam while incorporating delicious adoptions from French influences. We want to take you on a gastronomic journey through Vietnam, where every bite tells a story.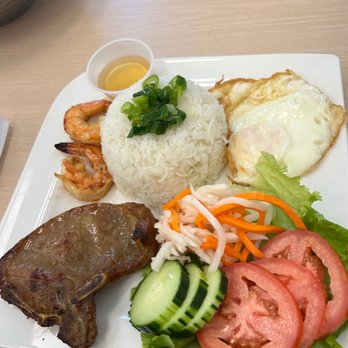 This image is property of s3-media0.fl.yelpcdn.com.
Experience Vietnamese Cuisine at Eurasian Bistro
When you visit Eurasian Bistro, get ready for an authentic Vietnamese dining experience that will tantalize your taste buds. Our menu is carefully crafted to bring you the best of Vietnamese flavors, offering a variety of traditional dishes prepared with love and expertise. From hearty pho to savory Bahn Mi sandwiches, our culinary creations will transport you straight to the bustling streets of Vietnam.
Delightful Ambiance and Authentic Food
Step into Eurasian Bistro and feel the warm and friendly vibes that surround you. Our restaurant exudes a welcoming atmosphere that invites you to sit back, relax, and enjoy your meal. Our staff is attentive and knowledgeable, always ready to guide you through the menu and offer recommendations based on your preferences.
To ensure that every dish is of the highest quality, we source our ingredients carefully. From fresh herbs and spices to locally sourced produce, every element of our menu is selected with great care. Our chefs are skilled in the art of Vietnamese cuisine, using traditional preparation techniques to bring out the flavors and textures that make our dishes truly special.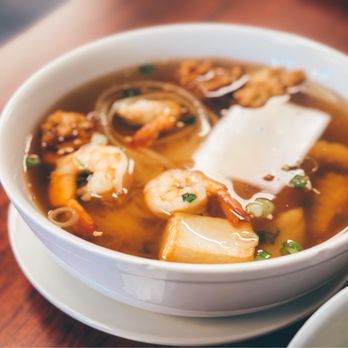 This image is property of s3-media0.fl.yelpcdn.com.
Conveniently Located in Pensacola, FL
Located in Pensacola, FL, Eurasian Bistro offers easy access for both locals and tourists. Whether you're exploring the city or visiting nearby attractions, our restaurant is conveniently situated to serve as a culinary oasis. And don't worry about parking – we have ample space available to accommodate all our guests.
So, what are you waiting for? Come and visit Eurasian Bistro in Pensacola, FL, and embark on a culinary adventure through Vietnam. Experience the flavors and warmth of Vietnamese cuisine in a delightful ambiance that will make you feel right at home. We can't wait to welcome you and introduce you to the wonderful world of Eurasian Bistro.