If you find yourself in Warrington, FL, craving for some delicious Vietnamese cuisine, look no further than Eurasian Bistro. Founded by Paul Nguyen, a Vietnamese immigrant with a fascinating story, this restaurant aims to bring the flavors of Vietnam to the masses. After retiring from the corporate world, Paul decided to embark on a new challenge and opened Eurasian Bistro in Pensacola. With a mission to showcase the unique Vietnamese cuisine, this restaurant offers a friendly ambiance and authentic food with delightful adaptations from French influences. So head over to Eurasian Bistro and indulge in a culinary experience that will leave you craving for more.

About Eurasian Bistro
Eurasian Bistro is a Vietnamese restaurant located in Pensacola, FL. It was founded by Paul Nguyen, a Vietnamese-American entrepreneur with a passion for sharing the unique flavors of Vietnamese cuisine. The bistro aims to bring awareness to this rich culinary tradition while offering a cozy and welcoming atmosphere for diners to enjoy.
Location and Contact Information
Eurasian Bistro is conveniently located at 10015 N Davis Hwy, Suite 600, Pensacola, FL 32514. For all inquiries and reservations, you can contact the restaurant at (850) 786-3459. Additionally, you can find more information about Eurasian Bistro on their website at eurasianbistro.com.
Founder's Background
Paul Nguyen, the founder of Eurasian Bistro, has a compelling backstory that has shaped his culinary journey. Born in Saigon, Vietnam, Nguyen and his family escaped from the war-torn country on a boat in 1977, two years after the fall of Saigon. After spending less than a year in a refugee camp in Indonesia, they finally arrived in the United States and settled in Houston, Texas.
Nguyen's professional career spanned years of work for both Microsoft and NASA. However, in 2013, he decided to retire from the corporate world and seek a new adventure. In 2015, he moved to Pensacola and took on the challenge of opening Eurasian Bistro.
Mission of Eurasian Bistro
The mission of Eurasian Bistro is to bring awareness of the unique Vietnamese cuisine to the masses. Nguyen envisions an experience that delights customers with a friendly ambiance and consistently good food that is authentic yet incorporates French influences. By sharing the flavors of Vietnam, Eurasian Bistro aims to create a bridge between cultures and introduce diners to the wonders of Vietnamese cuisine.
The Story of Paul Nguyen
Escape from Vietnam
Paul Nguyen's journey began in war-ravaged Vietnam. Faced with increasingly dire circumstances, his family decided to risk it all and escape on a boat in 1977. They braved treacherous waters and difficult conditions, eventually finding refuge in a camp in Indonesia. Their determination to seek a better life brought them one step closer to their dreams.
Settling in the United States
After a tumultuous journey, Nguyen's family made their way to the United States, specifically Houston, Texas. Here, they began the process of building a new life for themselves. Nguyen's upbringing in a Vietnamese-American household would later influence his love for his cultural heritage and the cuisine that would become the heart of Eurasian Bistro.
Professional Background and Retirement
Nguyen's career took him down many paths before he embarked on his culinary adventure. He worked for both Microsoft and NASA, gaining valuable experience in the corporate world. However, after years of dedicating himself to his career, he decided it was time for a change. In 2013, Nguyen made the bold choice to retire, seeking fulfillment in a different realm.
Move to Pensacola
In 2015, Nguyen settled in Pensacola, a vibrant city nestled on the Florida Panhandle. Drawn to its charm and natural beauty, he saw an opportunity to share his passion for Vietnamese cuisine with the local community. With a vision in mind, Nguyen began the journey of opening Eurasian Bistro, a place where he could showcase the unique flavors and nuances of Vietnamese cuisine.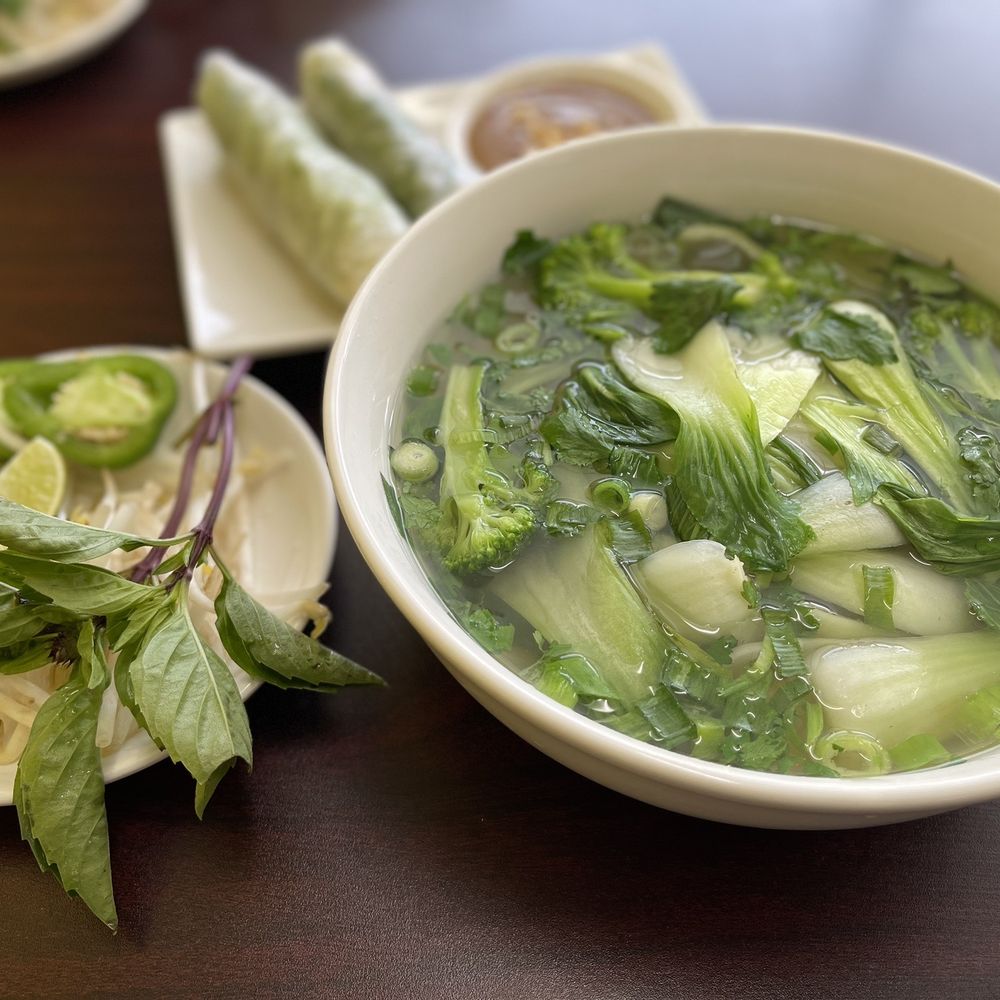 This image is property of s3-media0.fl.yelpcdn.com.

Eurasian Bistro: An Introduction
Bringing Awareness to Vietnamese Cuisine
Eurasian Bistro offers a journey into the vibrant world of Vietnamese cuisine. Its mission is to introduce diners to the diverse flavors and ingredients that make Vietnamese food unique. By creating an authentic and memorable dining experience, Eurasian Bistro aims to bring awareness to the rich culinary traditions of Vietnam.
Balancing Authenticity and French Influences
One of the distinctive aspects of Eurasian Bistro is its fusion of Vietnamese authenticity with French influences. Drawing on Vietnam's historic connection with France, Nguyen aims to showcase the harmonious blend of flavors that arises from this cultural interchange. The food at Eurasian Bistro reflects this balance, offering diners a unique and unexpected culinary experience.
The Unique Vietnamese Cuisine
Flavors and Ingredients
Vietnamese cuisine is characterized by its fresh and vibrant flavors. It elevates dishes with an emphasis on herbs, spices, and a delicate balance of sweet, sour, salty, and spicy elements. Key ingredients in Vietnamese cuisine include fish sauce, lemongrass, lime, ginger, and chili. These ingredients come together to create a symphony of flavors that are both complex and harmonious.
Popular Vietnamese Dishes
Vietnamese cuisine boasts a wide array of dishes that have gained global popularity. Pho, a fragrant noodle soup, is one such dish and is often considered the national dish of Vietnam. Other popular dishes include banh mi, a delectable Vietnamese sandwich, and bun cha, a grilled pork and rice noodle dish. From spring rolls to caramelized pork, each dish offers a unique taste that captivates the senses.
French Influences in Vietnamese Cuisine
Vietnam's rich history with France has left an indelible mark on its cuisine. French influences can be seen in dishes such as banh mi, which combines French bread with Vietnamese ingredients and flavors. The delicate art of baking and pastries, introduced by the French, has also found a place in Vietnamese cuisine. Eurasian Bistro celebrates these French influences, creating a culinary experience that pays homage to the fusion of cultures.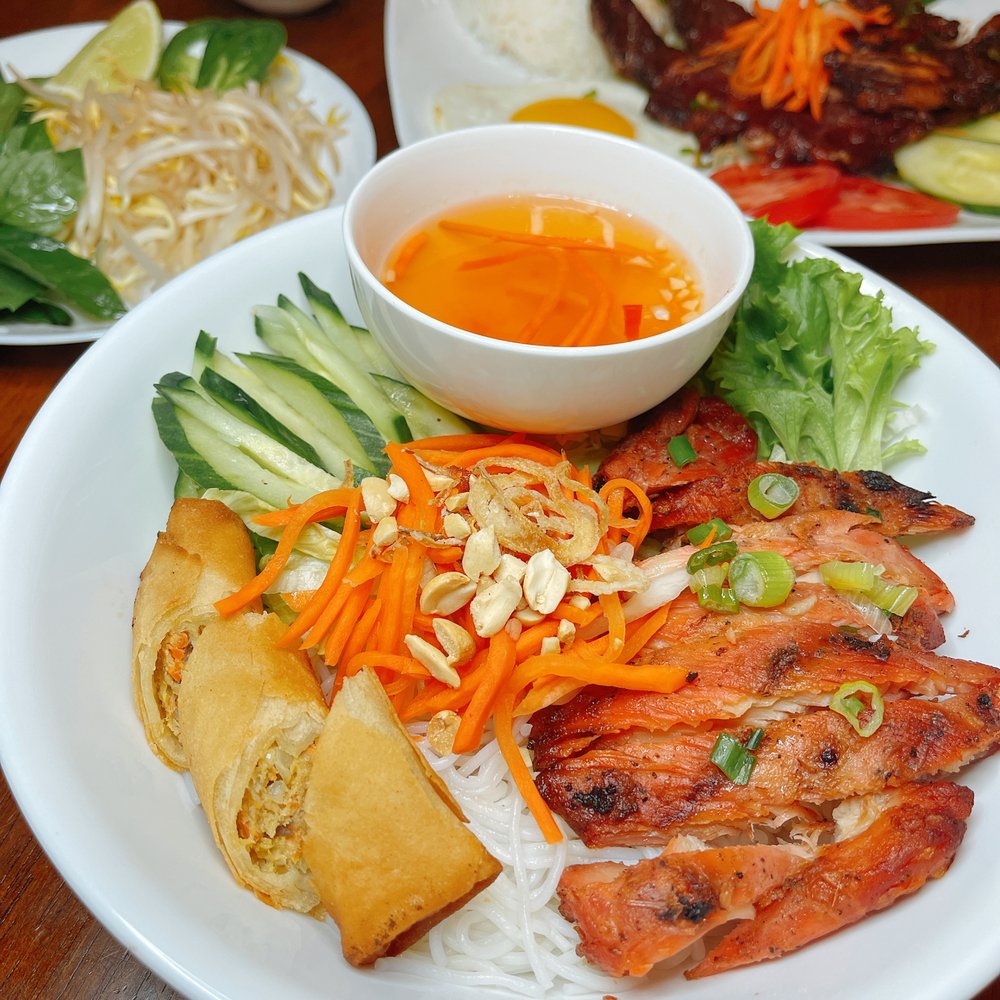 This image is property of s3-media0.fl.yelpcdn.com.
The Ambiance of Eurasian Bistro
Cozy and Welcoming Atmosphere
As you step into Eurasian Bistro, you are greeted by a warm and inviting ambiance. The friendly staff welcomes you with open arms, ensuring that you feel at home in this charming establishment. The cozy atmosphere invites you to relax and savor your dining experience, making it the perfect place for a casual meal or a special occasion.
Decor and Design
Eurasian Bistro's decor reflects the merging of Vietnamese and French influences. The space is carefully designed to create an atmosphere that is both elegant and comfortable. With a blend of traditional Vietnamese elements and modern touches, the décor adds to the overall charm and character of the restaurant.
Cultural Touches
As you explore Eurasian Bistro, you will notice subtle cultural touches that celebrate Vietnam's heritage. From the artwork adorning the walls to the traditional Vietnamese music playing softly in the background, each detail cultivates a sense of authenticity and transports diners to a different time and place.
The Menu
Variety of Appetizers
Eurasian Bistro offers a tantalizing selection of appetizers that showcase the diverse flavors of Vietnamese cuisine. From crispy spring rolls to fragrant lemongrass skewers, each dish is carefully crafted to provide a delightful start to your culinary journey. Whether you choose the fresh summer rolls or the savory seafood cakes, you are sure to find an appetizer that satisfies your taste buds.
Signature Pho and Noodle Dishes
No exploration of Vietnamese cuisine is complete without indulging in a steaming bowl of pho or a plate of flavorful noodles. Eurasian Bistro takes pride in its signature pho, a soul-warming broth filled with aromatic herbs, tender meat, and rice noodles. The menu also offers an assortment of noodle dishes, from stir-fried noodles to rich and creamy pad Thai.
Delicious Entrees
Eurasian Bistro serves an enticing array of entrees that capture the essence of Vietnamese cuisine. From succulent lemongrass chicken to mouthwatering curry, each dish is infused with bold flavors and is masterfully prepared. Whether you prefer seafood, poultry, or vegetarian options, the menu guarantees a memorable dining experience.
Vegetarian and Vegan Options
Eurasian Bistro is committed to accommodating various dietary preferences and offers a selection of vegetarian and vegan options. From tofu stir-fries to vegetable spring rolls, these dishes are crafted with the same attention to flavor and quality as the rest of the menu. Vegetarian and vegan patrons can indulge in the delights of Vietnamese cuisine without compromising their dietary choices.
Specialty Drinks and Desserts
To complement your meal, Eurasian Bistro offers a range of specialty drinks and desserts. Sip on refreshing Vietnamese iced coffee or indulge in a creamy coconut smoothie. For dessert, delight in traditional treats such as pandan cake or banana fritters. These tantalizing offerings provide the perfect end to your dining experience at Eurasian Bistro.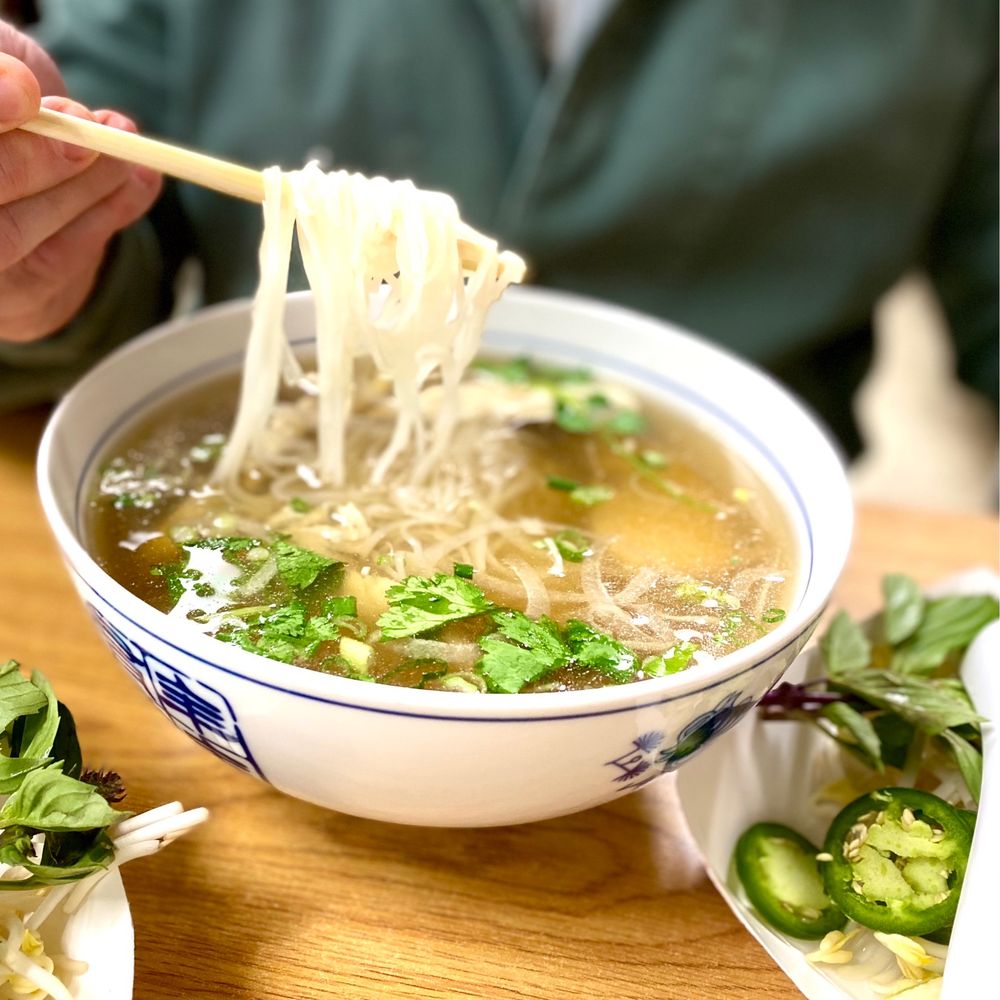 This image is property of s3-media0.fl.yelpcdn.com.
Customer Reviews
Positive Dining Experiences
Customers rave about their positive experiences dining at Eurasian Bistro. They commend the restaurant for its friendly staff, welcoming atmosphere, and attentive service. Diners often highlight the authentic flavors and high quality of the food, with many describing it as a culinary journey through Vietnam.
High-Quality Service
Eurasian Bistro prides itself on providing high-quality service to its patrons. Customers repeatedly express their appreciation for the knowledgeable and friendly staff who go above and beyond to ensure an exceptional dining experience. The attentive service adds to the overall satisfaction and enjoyment of the visit.
Praise for Food
The food at Eurasian Bistro receives consistent praise from customers. Diners laud the exquisite flavors and the meticulous attention to detail in each dish. From the fragrant and flavorful pho to the rich and satisfying entrees, the menu offerings consistently exceed expectations.
Repeat Customers
Eurasian Bistro boasts a loyal customer base, with many patrons returning time and time again. The restaurant's commitment to quality, authenticity, and exceptional service has earned the loyalty of its customers. Whether it's a casual meal with friends or a special occasion, Eurasian Bistro remains a top choice for those seeking a taste of Vietnam.
Recommendations to Others
Customers who have dined at Eurasian Bistro frequently recommend it to others. They describe it as a hidden gem, a place where the flavors of Vietnam come alive. The ambiance, the flavors, and the overall experience leave a lasting impression on every visitor, making it a must-visit restaurant for any culinary enthusiast.
Location and Directions
Address and Contact Information
Eurasian Bistro is conveniently located at 10015 N Davis Hwy, Suite 600, Pensacola, FL 32514. If you have any inquiries or would like to make a reservation, you can reach the restaurant at (850) 786-3459.
Map and Route Directions
To assist you in finding your way to Eurasian Bistro, you can use a trusted navigation app or website to obtain precise directions from your current location. These tools will guide you seamlessly towards the restaurant, ensuring a stress-free journey.
Parking Availability
Eurasian Bistro provides ample parking space for its diners. When you arrive at the restaurant, you will find designated parking areas nearby, allowing for easy access and convenience.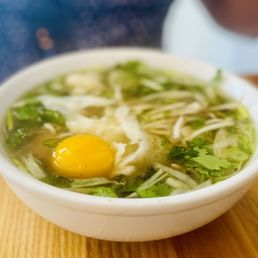 This image is property of s3-media0.fl.yelpcdn.com.
Visiting Eurasian Bistro
Reservations and Waiting Times
To ensure that you have a seamless dining experience, it is recommended to make a reservation at Eurasian Bistro, especially during peak hours or on weekends. Reserving a table in advance guarantees that you will have a space waiting for you upon your arrival. However, Eurasian Bistro also accommodates walk-in customers if tables are available.
Dining Hours
Eurasian Bistro is open for lunch and dinner throughout the week. The exact dining hours are as follows:
Monday: 11:00 AM – 2:30 PM, 5:00 PM – 9:00 PM
Tuesday: 11:00 AM – 2:30 PM, 5:00 PM – 9:00 PM
Wednesday: 11:00 AM – 2:30 PM, 5:00 PM – 9:00 PM
Thursday: 11:00 AM – 2:30 PM, 5:00 PM – 9:00 PM
Friday: 11:00 AM – 2:30 PM, 5:00 PM – 9:30 PM
Saturday: 11:00 AM – 2:30 PM, 5:00 PM – 9:30 PM
Sunday: Closed
Please note that dining hours may be subject to change, so it's always a good idea to check the restaurant's website or contact them directly for the most up-to-date information.
Takeout and Delivery Services
For those who prefer to enjoy Eurasian Bistro's cuisine in the comfort of their own homes, takeout and delivery services are available. Simply place your order by phone, specifying your preferences, and Eurasian Bistro will prepare your meal for pickup or delivery.
Special Events and Catering
Eurasian Bistro is well-equipped to handle special events and catering needs. Whether you're planning a family gathering, a corporate event, or any other occasion, Eurasian Bistro can accommodate your requirements. The restaurant's team will work closely with you to create a customized menu that suits your preferences and exceeds your expectations.
Contacting Eurasian Bistro
Phone Number
If you have any questions, inquiries, or would like to make a reservation, you can contact Eurasian Bistro directly at (850) 786-3459. The friendly staff will be more than happy to assist you with any requests or concerns.
Website and Online Reservations
For more information about Eurasian Bistro, including the menu, reviews, and events, you can visit their website at eurasianbistro.com. The website offers an array of resources to help you plan your visit and make online reservations.
Social Media Profiles
Stay connected and up-to-date with the latest news and promotions from Eurasian Bistro by following their social media profiles. You can find them on platforms such as Facebook, Instagram, and Twitter. Engage with the Eurasian Bistro community and join the conversation surrounding this beloved Vietnamese restaurant.